Menu

Sign In / Register

Law.com

Topics

Insights & Analysis

Surveys & Rankings

Law Firms

Communities

Search

Law.com


Sign In / Register

Publications

Law Topics

Insights & Analysis

Surveys & Rankings

Law Firms

Communities

Legal Newswire

Practice Tools

Copyright © 2020 ALM Media Properties, LLC. All Rights Reserved.
Special Report
Cannabis and the Legal Industry: New Rules, New Risks, New Opportunities
The state-by-state legalization of marijuana for medical and recreational use has created a complicated legal landscape—and with it new demands for lawyers to responsibly advise cannabis clients and companies in adjacent industries. This special report features Law.com's in-depth coverage of emerging legal issues, key regulatory developments, and the lawyers who are helping to shape a new industry.
Analysis
Legality of Hemp-Derived CBD: Use the C for Caution
For the businesses that wish to push forward on this uncertain landscape, cautious and strategic marketing may be the best—although not risk free—course of action.
Seven months ago, Congress enacted the Agriculture Improvement Act of 2018 (the 2018 Farm Bill). Although referred to as a farm bill, the implications for America beyond the farming community are significant. Most notably, as a consequence of the 2018 Farm Bill, hemp is no longer a controlled substance. But the fact that hemp is no longer a controlled substance does not take products that contain it out of federal regulation. The Food and Drug Administration (FDA) has regulated, and for the foreseeable future will continue to regulate, how these products can be marketed.
The FDA does not currently have an established policy for products that contain hemp beyond its standard policies for addressing foods and drugs that are marketed to consumers. Mindful that there has been a recent proliferation of these type of products and states have been encouraging companies to bring these products to market, the FDA is now soliciting comments on how to treat products that contain hemp. However, the enactment of the 2018 Farm Bill did not halt the FDA's practice of issuing warning letters to companies that it believes are improperly marketing their products in contravention of the Food, Drug, and Cosmetic Act (FD&C Act).
This content has been archived. It is available exclusively through our partner LexisNexis®.
To view this content, please continue to Lexis Advance®.
Not a Lexis Advance® Subscriber? Subscribe Now
LexisNexis® is now the exclusive third party online distributor of the broad collection of current and archived versions of ALM's legal news publications. LexisNexis® customers will be able to access and use ALM's content by subscribing to the LexisNexis® services via Lexis Advance®. This includes content from the National Law Journal®, The American Lawyer®, Law Technology News®, The New York Law Journal® and Corporate Counsel®, as well as ALM's other newspapers, directories, legal treatises, published and unpublished court opinions, and other sources of legal information.
ALM's content plays a significant role in your work and research, and now through this alliance LexisNexis® will bring you access to an even more comprehensive collection of legal content.
For questions call 1-877-256-2472 or contact us at [email protected]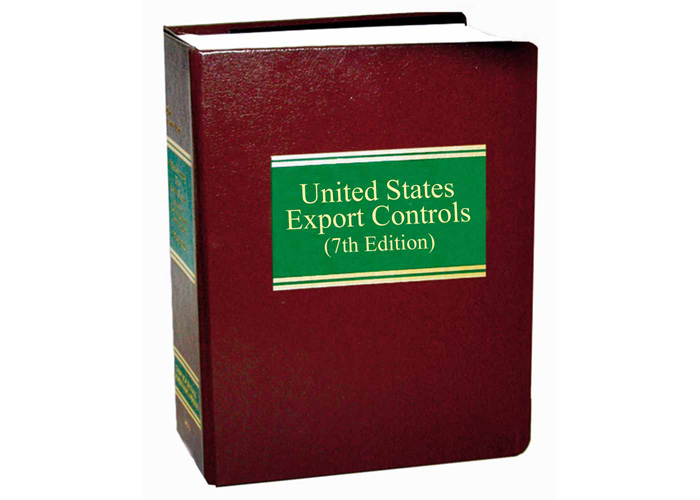 United States Export Controls provides the guidance exporters and those who work with them need to meet the legal requirements and the day-to-day operational demands of...
Get More Information
More from ALM
From DocuSign

Contractual status quo will grow evermore outdated. Don't get left behind. Download this guide for insights and data you can use to update your contract lifecycle management (CLM) processes.

From DocuSign

Learn how CLM can drive productivity, visibility, and manage risk in the contract process.

From DocuSign

From contract templates and workflows to organization and rollout timelines, use this guide to ensure your company is prepared for a contract management solution.
Premium Subscription

With this subscription you will receive unlimited access to high quality, online, on-demand premium content from well-respected faculty in the legal industry. This is perfect for attorneys licensed in multiple jurisdictions or for attorneys that have fulfilled their CLE requirement but need to access resourceful information for their practice areas.

Team Accounts

Our Team Account subscription service is for legal teams of four or more attorneys. Each attorney is granted unlimited access to high quality, on-demand premium content from well-respected faculty in the legal industry along with administrative access to easily manage CLE for the entire team.

Bundle Subscriptions

Gain access to some of the most knowledgeable and experienced attorneys with our 2 bundle options! Our Compliance bundles are curated by CLE Counselors and include current legal topics and challenges within the industry. Our second option allows you to build your bundle and strategically select the content that pertains to your needs. Both options are priced the same.
From Data to Decisions

Dynamically explore and compare data on law firms, companies, individual lawyers, and industry trends.

Exclusive Depth and Reach.

Legal Compass includes access to our exclusive industry reports, combining the unmatched expertise of our analyst team with ALM's deep bench of proprietary information to provide insights that can't be found anywhere else.

Big Pictures and Fine Details

Legal Compass delivers you the full scope of information, from the rankings of the Am Law 200 and NLJ 500 to intricate details and comparisons of firms' financials, staffing, clients, news and events.



Consulting Rising Stars 2020

August 20, 2020
Chicago, IL

Consulting magazine is proud to recognize this unique group of movers & shakers at our annual Rising Stars of Profession awards.

Consulting Women Leaders in Technology Awards 2020

August 21, 2020
Chicago, IL

Recognizing women leaders in technology for excellence across Leadership, Client Service and Innovation.

BenefitsPRO Broker Expo 2020

August 20, 2020 - August 22, 2020
Miami, FL

The premier educational and networking event for employee benefits brokers and agents.
Law.com

Sponsored by: Exterro |

Webcast Date - Wednesday, August 5, 2020 || Technology plays a vital role in automating and identifying the right data to delete when responding to a data breach. Developing a solid data retention strategy is key to managing and protecting your organization's important data, while avoiding fines and penalties.

Law.com

Sponsored By: Thomson Reuters |

[On-Demand Webcast] | This webcast focused on the increasing adoption of advanced, AI-powered legal technology by both courts and law firms. It touched base on the challenges legal professionals are facing today and how the current environment is impacting everything from court backlogs to practice areas.

Law.com

Sponsored by: Control Risks |

[On-Demand] Join this webcast for best practices and lessons learned for investigations.
Worker's Compensation Attorney- Connecticut

Cheshire, Connecticut, United States

Nuzzo & Roberts, LLC, located in Cheshire, CT, is seeking a Workers' Compensation Attorney to handle a large volume of defense files. Ideal...

Apply Now ›

Litigation Associate

Hartford, Connecticut, United States

Insurance defense firm with offices throughout New England is seeking a litigation associate with 5-10 years' experience. Must be admitted ...

Apply Now ›

Attorney, Products Liability,

Hartford, Connecticut, United States

Mass Torts and Consumer Class ActionsHartford, CTMcCarter & English, LLP is seeking an attorney for our Hartford, CT office in our Products ...

Apply Now ›
ZIEGLER ZEMSKY & RESNICK

07/27/2020
NJLJ Web

ZIEGLER ZEMSKY & RESNICK proudly welcomes Kristli L. Terranova, ESQ. as of Counsel to the firm

View Announcement ›

POGUST MILLROOD

07/15/2020
TLI Web

Pogust Millrood LLC proudly congratulates our founding Partner TOBIAS L. MILLROOD, ESQ. as he assumes the post as President of the American Association for Justice (AAJ) today.

View Announcement ›

MCOMBER AND MCOMBER

07/13/2020
NJLJ Web

MCOMBER & MCOMBER is proud to announce and welcome Charles J. Kocher as a partner to the firm.

View Announcement ›
ALM Legal Publication Newsletters
Sign Up Today and Never Miss Another Story.
As part of your digital membership, you can sign up for an unlimited number of a wide range of complimentary newsletters. Visit your My Account page to make your selections. Get the timely legal news and critical analysis you cannot afford to miss. Tailored just for you. In your inbox. Every day.
Copyright © 2020 ALM Media Properties, LLC. All Rights Reserved.