Menu

Sign In / Register

Law.com

Topics

Insights & Analysis

Surveys & Rankings

Law Firms

Communities

Search

Law.com


Sign In / Register

Publications

Law Topics

Insights & Analysis

Surveys & Rankings

Law Firms

Communities

Legal Newswire

Practice Tools

Copyright © 2020 ALM Media Properties, LLC. All Rights Reserved.
Home
Instant Insights / Big Law Bonanza as Firms Add Locations
The new year got off to a bang with a wave of law firms opening offices here and abroad. Asia is a popular destination for growth as is Boston and Ireland. Of course, 2018 isn't without its closures so far—Troutman Sanders shut down three overseas offices and Norton Rose Fulbright closed two more—but many firms are in expansion mode right now. This Instant Insights spots the trends and pulls them all together.
News
Mayer Brown to Open Office in Tokyo
Ashurst exits continue as a long-serving corporate partner leaves for Mayer Brown.
Mayer Brown is opening an office in Japan, hiring Rupert Burrows, former head of the Tokyo office of Ashurst, to lead the newest of the firm's Asian outposts.
This content has been archived. It is available exclusively through our partner LexisNexis®.
To view this content, please continue to Lexis Advance®.
Not a Lexis Advance® Subscriber? Subscribe Now
LexisNexis® is now the exclusive third party online distributor of the broad collection of current and archived versions of ALM's legal news publications. LexisNexis® customers will be able to access and use ALM's content by subscribing to the LexisNexis® services via Lexis Advance®. This includes content from the National Law Journal®, The American Lawyer®, Law Technology News®, The New York Law Journal® and Corporate Counsel®, as well as ALM's other newspapers, directories, legal treatises, published and unpublished court opinions, and other sources of legal information.
ALM's content plays a significant role in your work and research, and now through this alliance LexisNexis® will bring you access to an even more comprehensive collection of legal content.
For questions call 1-877-256-2472 or contact us at customercare@alm.com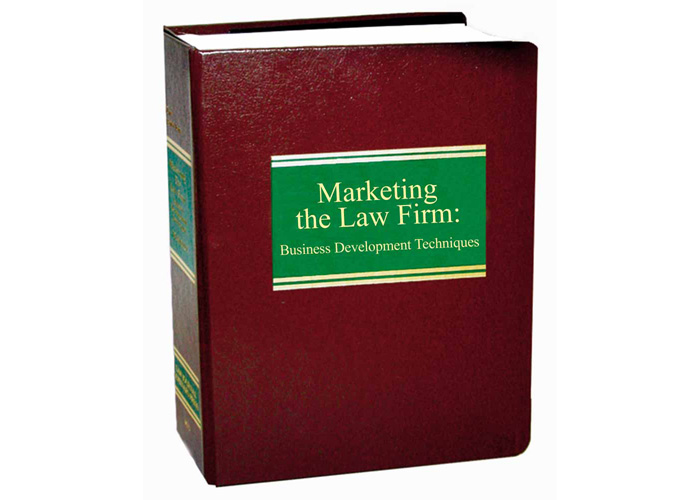 Sally Schmidt's book, Marketing the Law Firm: Business Development Techniques, is a bible, a must-read, and a springboard to law firm marketing for any new or season...
Get More Information
How does your firm compare against firms around the globe? Evaluating a potential global alliance? Find critical information on the Global 200 law firms in Legal Compass - compare financials, track laterals, and more.
Get More Information
Annual conference bringing together the leaders of independent law firms from around the world, from 40+ jurisdictions.
Get More Information
Where the region's top lawyers, law firms and in-house teams will gather to celebrate their most stellar achievements of the year.
Get More Information
More from ALM
From Zapproved

A 5-step approach to achieving a cost-effective ediscovery process.

From Kira Systems

Getting your business ready for Brexit can be a daunting task for even the most well-resourced organizations. Watch this on-demand webinar to ensure you're taking expert-recommended steps to get ahead!

From Exterro

An in-depth walkthrough for essential data privacy regulation compliance with the California Consumer Privacy Act (CCPA).
Premium Subscription

With this subscription you will receive unlimited access to high quality, online, on-demand premium content from well-respected faculty in the legal industry. This is perfect for attorneys licensed in multiple jurisdictions or for attorneys that have fulfilled their CLE requirement but need to access resourceful information for their practice areas.

Team Accounts

Our Team Account subscription service is for legal teams of four or more attorneys. Each attorney is granted unlimited access to high quality, on-demand premium content from well-respected faculty in the legal industry along with administrative access to easily manage CLE for the entire team.

Bundle Subscriptions

Gain access to some of the most knowledgeable and experienced attorneys with our 2 bundle options! Our Compliance bundles are curated by CLE Counselors and include current legal topics and challenges within the industry. Our second option allows you to build your bundle and strategically select the content that pertains to your needs. Both options are priced the same.
From Data to Decisions

Dynamically explore and compare data on law firms, companies, individual lawyers, and industry trends.

Exclusive Depth and Reach.

Legal Compass includes access to our exclusive industry reports, combining the unmatched expertise of our analyst team with ALM's deep bench of proprietary information to provide insights that can't be found anywhere else.

Big Pictures and Fine Details

Legal Compass delivers you the full scope of information, from the rankings of the Am Law 200 and NLJ 500 to intricate details and comparisons of firms' financials, staffing, clients, news and events.



Connecticut Legal Awards 2020

May 06, 2020
Plantsville, CT

Connecticut Law Tribune honors attorneys and judges who have made a remarkable difference in the legal profession in Connecticut.

Consulting Women Leaders in Technology Awards 2020

May 14, 2020
San Francisco, CA

Recognizing women leaders in technology for excellence across Leadership, Client Service and Innovation.

Canadian Fixed Income Investments in Pensions Forum

June 03, 2020
Toronto, Ontario

Tackle challenges & opportunities within fixed income due to low interest rates, lack of liquidity and a weakened Canadian dollar.
Law.com

Brought to you by: ALM Media |

Webcast Date: April, 2 2020 | 2:00pm ET - Hear from ALM's experts in the legal, financial, employee benefits, insurance and commercial real estate industries explain how marketers are adapting to the new reality.

Law.com

Sponsored by: Diligent |

Webcast Date: Wednesday, April 15, 2020 | Growth and expansion is a natural progression and goal of many companies, in order to keep up with the competition and demand.

Law.com

Sponsored by: Zapproved |

Webcast Date: Tuesday, March 24, 2020 | Corporate Legal professionals are well aware of the need for robust, comprehensive Privacy Response Programs, but often the conversation remains too theoretical, only addressing "perfect world" scenarios.
Associate General Counsel - Enforcement

Washington, District of Columbia, United States

The Board of Governors of the Federal Reserve System (the Board), an independent agency of the federal government, serves as the nation&rsqu...

Apply Now ›

Associate General Counsel

Chicago, Illinois, United States

ASSOCIATE GENERAL COUNSEL Chicago, IL The ADA is the nation's largest dental association, representing over 163,000 dentist members and su...

Apply Now ›

IN-HOUSE / COMPLIANCE / PART-TIME

Boston, Massachusetts, United States

Small investment management and retirement planning company seeks part-time attorney to assist with compliance and legal matters. Flexible ...

Apply Now ›
SIGNATURE RESOLUTION LLC

04/01/2020
TR Web

View Announcement ›

PICCIANO & SCAHILL PC

04/01/2020
NYLJ Web

Scahill Law Group P.C. mourns the passing of a legend, and our mentor, Judge John A. Milano

View Announcement ›

PICCIANO & SCAHILL PC

03/31/2020
NYLJ Web

Scahill Law Group P.C. mourns the passing of a legend, and our mentor, Judge John A. Milano

View Announcement ›
ALM Legal Publication Newsletters
Sign Up Today and Never Miss Another Story.
As part of your digital membership, you can sign up for an unlimited number of a wide range of complimentary newsletters. Visit your My Account page to make your selections. Get the timely legal news and critical analysis you cannot afford to miss. Tailored just for you. In your inbox. Every day.
Copyright © 2020 ALM Media Properties, LLC. All Rights Reserved.