Menu

Sign In / Register

Law.com

National Law Journal Home

Topics

Surveys & Rankings
Supreme Court Brief

Follow National Law Journal
Home
Instant Insights / SCOTUS Delivers (Mostly) Banner Term for Business
The U.S. Supreme Court term ended with a bang June 27, when Justice Anthony Kennedy revealed that he would retire from the bench after three decades. But even without that bombshell announcement, the term was a barn burner, with decisions ranging from the travel ban to abortion rights to voter laws. In this Instant Insights, we're looking at the decisions that most closely affect businesses—those that will impact many of you and your clients.
News
Justices, Overturning Precedent, Restrict Labor Union Power to Collect Fees
Justice Samuel Alito Jr. wrote that the majority recognized that the loss of payments from nonmembers may cause unions to experience "unpleasant transition costs in the short term." However, he added, "We must weigh these disadvantages against the considerable windfall that unions have received under Abood for the past 41 years."
A sharply divided U.S. Supreme Court on Wednesday leveled a blow to public-sector unions by striking down fair-share fees charged to nonunion members for their costs of collective bargaining.
This content has been archived. It is available exclusively through our partner LexisNexis®.
To view this content, please continue to Lexis Advance®.
Not a Lexis Advance® Subscriber? Subscribe Now
LexisNexis® is now the exclusive third party online distributor of the broad collection of current and archived versions of ALM's legal news publications. LexisNexis® customers will be able to access and use ALM's content by subscribing to the LexisNexis® services via Lexis Advance®. This includes content from the National Law Journal®, The American Lawyer®, Law Technology News®, The New York Law Journal® and Corporate Counsel®, as well as ALM's other newspapers, directories, legal treatises, published and unpublished court opinions, and other sources of legal information.
ALM's content plays a significant role in your work and research, and now through this alliance LexisNexis® will bring you access to an even more comprehensive collection of legal content.
For questions call 1-877-256-2472 or contact us at customercare@alm.com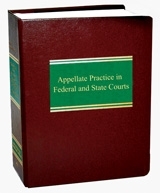 A new 'Bible' for appellate practice.... Part treatise, part do-it-yourself manual, and part map of the road through an appeal. Luther Munford, The Appella...
Get More Information
ACE Leadership Forum & Expo is the annual conference for Senior Claims Executives in Insurance organizations.
Get More Information
Delivers the key insights and practical solutions to acutely address the complex minefield of UK banking litigation & regulation.
Get More Information
For senior dispute resolution professionals to network and engage through open debate, panels, expert speakers & breakout sessions
Get More Information
More from ALM
Premium Subscription

With this subscription you will receive unlimited access to high quality, online, on-demand premium content from well-respected faculty in the legal industry. This is perfect for attorneys licensed in multiple jurisdictions or for attorneys that have fulfilled their CLE requirement but need to access resourceful information for their practice areas.

Team Accounts

Our Team Account subscription service is for legal teams of four or more attorneys. Each attorney is granted unlimited access to high quality, on-demand premium content from well-respected faculty in the legal industry along with administrative access to easily manage CLE for the entire team.

Bundle Subscriptions

Gain access to some of the most knowledgeable and experienced attorneys with our 2 bundle options! Our Compliance bundles are curated by CLE Counselors and include current legal topics and challenges within the industry. Our second option allows you to build your bundle and strategically select the content that pertains to your needs. Both options are priced the same.
From Data to Decisions

Dynamically explore and compare data on law firms, companies, individual lawyers, and industry trends.

Exclusive Depth and Reach.

Legal Compass includes access to our exclusive industry reports, combining the unmatched expertise of our analyst team with ALM's deep bench of proprietary information to provide insights that can't be found anywhere else.

Big Pictures and Fine Details

Legal Compass delivers you the full scope of information, from the rankings of the Am Law 200 and NLJ 500 to intricate details and comparisons of firms' financials, staffing, clients, news and events.



The National Law Journal Awards 2020

November 05, 2020
Washington, DC

The National Law Journal honors attorneys & judges who've made a remarkable difference in the legal profession in the D.C. area.

Consulting Women Leaders in Technology Awards 2020

May 14, 2020
San Francisco, CA

Recognizing women leaders in technology for excellence across Leadership, Client Service and Innovation.

Canadian Fixed Income Investments in Pensions Forum

June 03, 2020
Toronto, Ontario

Tackle challenges & opportunities within fixed income due to low interest rates, lack of liquidity and a weakened Canadian dollar.
Law.com

Sponsored By: FTI Consulting |

Webcast Date: Wednesday, May 6, 2020 | In the current state of uncertainty, business resiliency is top of mind for many organizations; however, many are struggling to articulate what that might look like and what can be done in the near term to achieve it.

Law.com

Presented by: The American Lawyer | Sponsored by: IMS Expert Services and Wells Fargo |

Webcast Date: Tuesday, April 21, 2020 | Join ALM's upcoming webcast and be among the first to take a deep dive into the exclusive insights and trends revealed in our Am Law 100 data and how firms stand going into a very different 2020. Hear from the editorial and intelligence teams behind the report on the day it's released.

Law.com

Sponsored by: National Arbitration and Mediation |

Webcast Date: Thursday, April 30, 2020 | Now that we are all faced with the reality of social distancing, it is imperative that we use technology to continue working while adhering to the government regulations.
Senior Legal Assistant

Phoenix, Arizona, United States

Our cutting edge, virtual law firm protects financially successful people from crooks and con artists. We provide the laptop and equipment. ...

Apply Now ›

IN-HOUSE/INVESTMENT MANAGEMENT

Boston, Massachusetts, United States

Premier investment fund seeks 3+ year attorney for high impact role advising on wide range of matters surrounding fund s investment process,...

Apply Now ›

ASSOCIATE / FAMILY LAW

Boston, Massachusetts, United States

Terrific southern New Hampshire law firm seeks 3+ year associate with entrepreneurial spirit and family law experience to join diverse pract...

Apply Now ›
PICCIANO & SCAHILL PC

04/08/2020
NYLJ Web

Scahill Law Group P.C. mourns the passing of a legend, and our mentor, Judge John A. Milano

View Announcement ›

PICCIANO & SCAHILL PC

04/07/2020
NYLJ Web

Scahill Law Group P.C. mourns the passing of a legend, and our mentor, Judge John A. Milano

View Announcement ›

PICCIANO & SCAHILL PC

04/06/2020
NYLJ Web

Scahill Law Group P.C. mourns the passing of a legend, and our mentor, Judge John A. Milano

View Announcement ›
ALM Legal Publication Newsletters
Sign Up Today and Never Miss Another Story.
As part of your digital membership, you can sign up for an unlimited number of a wide range of complimentary newsletters. Visit your My Account page to make your selections. Get the timely legal news and critical analysis you cannot afford to miss. Tailored just for you. In your inbox. Every day.
Copyright © 2020 ALM Media Properties, LLC. All Rights Reserved.