Menu

Sign In / Register

Law.com

Topics

Insights & Analysis

Surveys & Rankings

Law Firms

Communities

Search

Law.com


Sign In / Register

Publications

Law Topics

Insights & Analysis

Surveys & Rankings

Law Firms

Communities

Legal Newswire

Practice Tools

Copyright © 2021 ALM Media Properties, LLC. All Rights Reserved.
Special Report
Litigation: Editor's Picks
Our global newsroom covers litigation at every level, from bet-the-company cases involving multinational litigants to local personal injury lawsuits with statewide implications. Here you'll find the best of our litigation trend analysis and in-depth commentary from practitioners and judges, along with our coverage of key players, breaking news, game-changing rulings, major recoveries and international cases.
News
Statute of Limitations Allows Law Firm to Escape Liability in Suit Over Cyberstalking of Litigant
In ruling the suit was time-barred, the court staves off any finding about Cooper Levenson's liability for the hacking allegations. The decision provides guidance on the question of when claims accrue under the Computer Fraud and Abuse Act.
Cooper Levenson and a former partner in the firm are off the hook in a suit accusing them of involvement in a client's cyberstalking of his ex-wife.
U.S. District Judge Noel Hillman dismissed claims against the firm and attorney Richard C. Klein as time-barred under the federal Computer Fraud and Abuse Act. Hillman relied on a recent ruling from the U.S. Court of Appeals for the Second Circuit, Sewell v. Bernardin, which held that a CFAA claim starts to run when the plaintiff learned the integrity of her computer had been compromised. The relevant inquiry is not, as the plaintiff in the present case suggested, when the plaintiff learned of the nature and extent of the software installed on her computer and her ex-husband's involvement, Hillman said.
Want to continue reading?
Become a Free ALM Digital Reader.
Benefits of a Digital Membership:
Free access to 1 article* every 30 days
Access to the entire ALM network of websites
Unlimited access to the ALM suite of newsletters
Build custom alerts on any search topic of your choosing
Search by a wide range of topics
*May exclude premium content
Already have an account? Sign In Now
Dig Deeper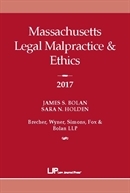 Navigate Massachusetts' system of attorney regulation; this book contains practical advice from the authors regarding Massachusetts Bar Discipline and Legal Malpracti...
Get More Information
More from ALM
From AbacusNext

This checklist provides the essential criteria needed to elevate a law firm into higher productivity and profit or challenge them in a time of crisis.

From Netdocuments

Discover the benefits increased collaboration can offer your team. Learn how to become a trusted business partner, six communication strategies for effective external counsel, and five ways to use technology to support collaboration.

From LawVu

In this short whitepaper you will learn why choosing individual vendors for each tool is not always the best way to transform your legal operations, and how a platform approach sets the foundation for success.
Premium Subscription

With this subscription you will receive unlimited access to high quality, online, on-demand premium content from well-respected faculty in the legal industry. This is perfect for attorneys licensed in multiple jurisdictions or for attorneys that have fulfilled their CLE requirement but need to access resourceful information for their practice areas.

Team Accounts

Our Team Account subscription service is for legal teams of four or more attorneys. Each attorney is granted unlimited access to high quality, on-demand premium content from well-respected faculty in the legal industry along with administrative access to easily manage CLE for the entire team.

Bundle Subscriptions

Gain access to some of the most knowledgeable and experienced attorneys with our 2 bundle options! Our Compliance bundles are curated by CLE Counselors and include current legal topics and challenges within the industry. Our second option allows you to build your bundle and strategically select the content that pertains to your needs. Both options are priced the same.
From Data to Decisions

Dynamically explore and compare data on law firms, companies, individual lawyers, and industry trends.

Exclusive Depth and Reach.

Legal Compass includes access to our exclusive industry reports, combining the unmatched expertise of our analyst team with ALM's deep bench of proprietary information to provide insights that can't be found anywhere else.

Big Pictures and Fine Details

Legal Compass delivers you the full scope of information, from the rankings of the Am Law 200 and NLJ 500 to intricate details and comparisons of firms' financials, staffing, clients, news and events.



GlobeSt. APARTMENTS SPRING 2021

March 04, 2021
Virtual

Join 1000+ of the industry's top owners, investors, developers, brokers & financiers at THE MULTIFAMILY EVENT OF THE YEAR!

WIPL.UK Awards 2021

March 10, 2021
Virtual

The WIPL.UK Awards honors the industry standouts and rising stars who are making a mark within the profession.

WIPL.UK 2021

March 10, 2021 - March 11, 2021
Virtual

Women, Influence & Power in Law UK (WIPL.UK) offers an opportunity for unprecedented exchange with senior female in-house lawyers.
Law.com

Find out how B2B marketers in the legal, financial, insurance, and commercial real estate markets are using ABM to successfully drive leads and get business from key accounts.

Law.com

Sponsored by: Computershare |

Join this webcast as experts discuss how firms can transition to the cloud—piecemeal or entirely.

Law.com

Sponsored by: DocuSign |

In response to the ongoing pandemic, many federal agencies and state legislatures have revised their rules to allow for broader utilization of online solutions to remotely conduct business.
Attorney

Princeton, New Jersey, United States

Dr. Reddy's, a leading Global Pharmaceutical Company, is seeking Legal Counsel for our Princeton, NJ office. Candidates must have a Juris Do...

Apply Now ›

Attorney

Secaucus, New Jersey, United States

Real estate attorney with a minimum of 1-3 year's experience in transactional practice (conducting closings, negotiation and preparation of ...

Apply Now ›

Litigation Associate

Somerset County, New Jersey, United States

We are a mid-size firm in the Somerset County area, and are seeking an associate with a minimum of 5 years litigation experience. We have a...

Apply Now ›
CHROWOSKI & CLARY

03/01/2021
DBR Web

The Law Offices of CHOROWSKI & CLARY, P.A. is proud to announce that JAMIE M. EPSTEIN & MEGHANA M. SAOJI have been promoted to partners in the firm and MEGHAN M. CLARY has earned Board Certification in Marital and Family Law by the Florida Bar.

View Announcement ›

SCHENCK PRICE SMITH & KING, LLP

02/22/2021
NJLJ Web

Schenk Price is pleased to announce that Jason A. Rubin has been named a partner in the firm

View Announcement ›

AARONSON RAPPAPORT FEINSTEIN & DEUTSCH, LLP

02/22/2021
NYLJ Web

AARONSON RAPPAPORT FEINSTEIN & DEUTSCH, LLP IS PLEASED TO ANNOUNCE MARGOT P. WEISBERG HAS BECOME A MEMBER IN THE FIRM

View Announcement ›
ALM Legal Publication Newsletters
Sign Up Today and Never Miss Another Story.
As part of your digital membership, you can sign up for an unlimited number of a wide range of complimentary newsletters. Visit your My Account page to make your selections. Get the timely legal news and critical analysis you cannot afford to miss. Tailored just for you. In your inbox. Every day.
Copyright © 2021 ALM Media Properties, LLC. All Rights Reserved.