Recommended Stories
Associate Justice Clarence Thomas offered a 12-page concurring opinion, expressing concern over Twitter's ability to stifle speech on its platform. The decision remanded the case to the U.S. Court of Appeals for Second Circuit, which found in 2019 that Trump had acted unlawfully in blocking some users from commenting on his posts.
"One, people will not pay attention," said Robert Mitchell, a partner with Mitchell & Sheahan on why remote jury trials won't work. "Two, the court will not have real control over the jury. And three, there is a certain majesty involved with being in the courthouse, and you can't repeat that by being in the kitchen."
While ruling in lawyer Steven Donziger's favor on one civil contempt-of-court count, and reversing a sanctions award tied to it, the majority panel also took pains to make clear to Donziger that his past litigation fundraising actions that led to that contempt finding will not be tolerated again.
Featured Firms
Law Offices of Gary Martin Hays & Associates P.C.
75 Ponce De Leon Ave NE Ste 101
Atlanta
,
GA
30308
(470) 294-1674
www.garymartinhays.com
Law Offices of Mark E. Salomone
2 Oliver St #608
Boston
,
MA
02109
(857) 444-6468
www.marksalomone.com
Smith & Hassler
1225 N Loop W #525
Houston
,
TX
77008
(713) 739-1250
www.smithandhassler.com
Presented by BigVoodoo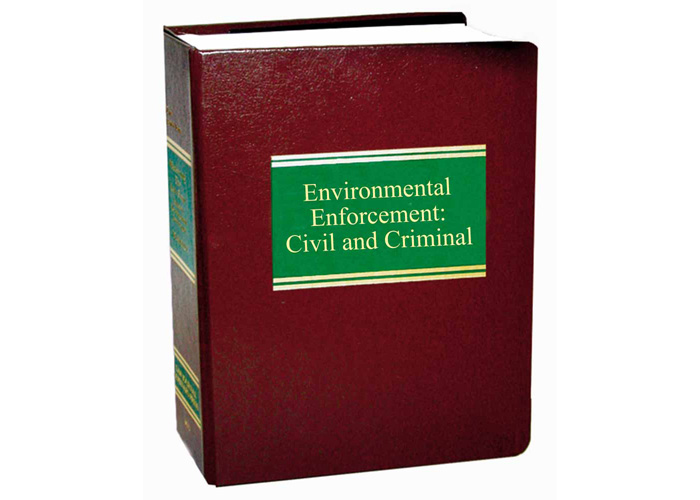 The Environmental Enforcement: Civil and Criminal law book explains the potential legal consequences of enforcement actions and discusses procedures to follow to minimiz...
Get More Information
More from ALM
From LEAP

This eBook from LEAP outlines habits - and actionable checklists - to help you with the planning and operation required to stay successful in the new digital environment and beyond.

From Counsel Financial

Explore how contingent-fee law firms have navigated the current state of the legal system and their outlook moving forward in this paper.

From pwc

The notion that conducting eDiscovery today means accepting unacceptable risks and costs -- third-party cyber breaches, the expense of having redundant data across multiple service providers -- is ripe for retirement. Now, there's a better way. Download to learn more.
Premium Subscription

With this subscription you will receive unlimited access to high quality, online, on-demand premium content from well-respected faculty in the legal industry. This is perfect for attorneys licensed in multiple jurisdictions or for attorneys that have fulfilled their CLE requirement but need to access resourceful information for their practice areas.

Team Accounts

Our Team Account subscription service is for legal teams of four or more attorneys. Each attorney is granted unlimited access to high quality, on-demand premium content from well-respected faculty in the legal industry along with administrative access to easily manage CLE for the entire team.

Bundle Subscriptions

Gain access to some of the most knowledgeable and experienced attorneys with our 2 bundle options! Our Compliance bundles are curated by CLE Counselors and include current legal topics and challenges within the industry. Our second option allows you to build your bundle and strategically select the content that pertains to your needs. Both options are priced the same.
From Data to Decisions

Dynamically explore and compare data on law firms, companies, individual lawyers, and industry trends.

Exclusive Depth and Reach.

Legal Compass includes access to our exclusive industry reports, combining the unmatched expertise of our analyst team with ALM's deep bench of proprietary information to provide insights that can't be found anywhere else.

Big Pictures and Fine Details

Legal Compass delivers you the full scope of information, from the rankings of the Am Law 200 and NLJ 500 to intricate details and comparisons of firms' financials, staffing, clients, news and events.



The Asia Legal Awards 2021

May 05, 2021
Virtual

Where the region's top lawyers, law firms and in-house teams will gather to celebrate their most stellar achievements of the year.

America's Claims Executive Virtual Leadership Forum & Expo 2021

May 04, 2021 - May 06, 2021
Virtual

ACE Virtual Leadership Forum & Expo is the annual conference for Senior Claims Executives in Insurance organizations.

Connecticut Legal Awards 2021

May 12, 2021
Virtual

Connecticut Law Tribune honors attorneys and judges who have made a remarkable difference in the legal profession in Connecticut.
Law.com

Sponsored by: OOMA |

Join this webcast for a better understanding of the technology that can help you save money and work more efficiently in the future.

Law.com

Brought to you by ALM Media |

Join this webcast to find out how B2B marketers in the legal, financial, insurance, and commercial real estate markets are getting 3x to 6x better engagement using advanced digital advertising strategies.

Law.com

Sponsored by: LexisNexis |

Legal departments across the globe are in the process of developing new policies around unprecedented issues such as vaccine protocols and other novel COVID-19 employment issues. With the vaccination process being rolled out, employers are navigating unprecedented issues within their workforce and leaning on the legal department for those answers. This webcast will explore the most pressing questions employers are asking.
Labor and Employment Associate (Remote)

Kansas City, Missouri, United States

Fox Rothschild LLP has an opening for a labor and employment associate with 1-3 years of experience. The ideal candidate will have some expe...

Apply Now ›

Mid-Level Labor and Employment Associate (Remote)

Kansas City, Missouri, United States

Fox Rothschild LLP has an opening for a mid-level labor and employment associate with 3-5 years of experience. The ideal candidate will have...

Apply Now ›

(EXCLUSIVE) MID-LEVEL ESTATE PLANNING ASSOCIATE WANTED FOR BOUTIQUE FIRM (Atlanta, GA)

Atlanta, Georgia, United States

Our client, a boutique Atlanta law firm focused on wealth preservation and succession planning has exclusively retained The Partners Group t...

Apply Now ›
COMPASS LEGAL MARKETING

04/12/2021
DBR Web

RIVERO MESTRE IS PLEASED TO ANNOUNCE OUR LATEST RECOGNITIONS, RIVERO MESTRE NAMED FIRM OF THE YEAR IN THE 2021 BENCHMARK FLORIDA LITIGATION GUIDE. CHAMBERS NAMES RIVERO MESTRE OUTSTANDING FIRM FOR FURTHERING DIVERSITY AND INCLUSION. ANDRES RIVERO, JORGE A.

View Announcement ›

LOMBARDI & LOMBARDI

04/12/2021
NJLJ Web

LOMBARDI & LOMBARDI, P.A. PROUDLY WELCOMES JAMIE D. HAPPAS P.J. Cv. (Ret.)

View Announcement ›

BRACH EICHLER LLC

04/05/2021
NJLJ Web

Please to announce...

View Announcement ›
ALM Legal Publication Newsletters
Sign Up Today and Never Miss Another Story.
As part of your digital membership, you can sign up for an unlimited number of a wide range of complimentary newsletters. Visit your My Account page to make your selections. Get the timely legal news and critical analysis you cannot afford to miss. Tailored just for you. In your inbox. Every day.
Copyright © 2021 ALM Media Properties, LLC. All Rights Reserved.