Menu

Sign In / Register

Law.com

Topics

Insights & Analysis

Surveys & Rankings

Law Firms

Communities

Search

Law.com


Sign In / Register

Publications

Law Topics

Insights & Analysis

Surveys & Rankings

Law Firms

Communities

Legal Newswire

Practice Tools

Copyright © 2020 ALM Media Properties, LLC. All Rights Reserved.
Home
Instant Insights / GDPR: 1 Year Later
The European Union's General Data Protection Regulation went into effect on May 25, 2018, prioritizing data privacy concerns for in-house counsel around the world. One year later, as more general counsel share their tips on compliance and more surveys document the law's effectiveness, it still is putting lawyers on high alert with the U.S. discussing ways to pass a similar law as California plans to see its version live in 2020.
News
US Companies Repeating Data Privacy Compliance Mistakes, Study Shows
Half of U.S. companies included in this new survey missed the GDPR deadline, and 70% said their compliance systems won't adapt to new regulations. Despite those foreboding findings, the majority of companies said they'd could meet the CCPA compliance deadline, which is less than seven months away.
U.S. companies haven't learned much from the missteps they made while preparing for the European Union's General Data Protection Regulation, suggests a new study on data privacy regulation compliance.
This content has been archived. It is available exclusively through our partner LexisNexis®.
To view this content, please continue to Lexis Advance®.
Not a Lexis Advance® Subscriber? Subscribe Now
LexisNexis® is now the exclusive third party online distributor of the broad collection of current and archived versions of ALM's legal news publications. LexisNexis® customers will be able to access and use ALM's content by subscribing to the LexisNexis® services via Lexis Advance®. This includes content from the National Law Journal®, The American Lawyer®, Law Technology News®, The New York Law Journal® and Corporate Counsel®, as well as ALM's other newspapers, directories, legal treatises, published and unpublished court opinions, and other sources of legal information.
ALM's content plays a significant role in your work and research, and now through this alliance LexisNexis® will bring you access to an even more comprehensive collection of legal content.
For questions call 1-877-256-2472 or contact us at customercare@alm.com
Dig Deeper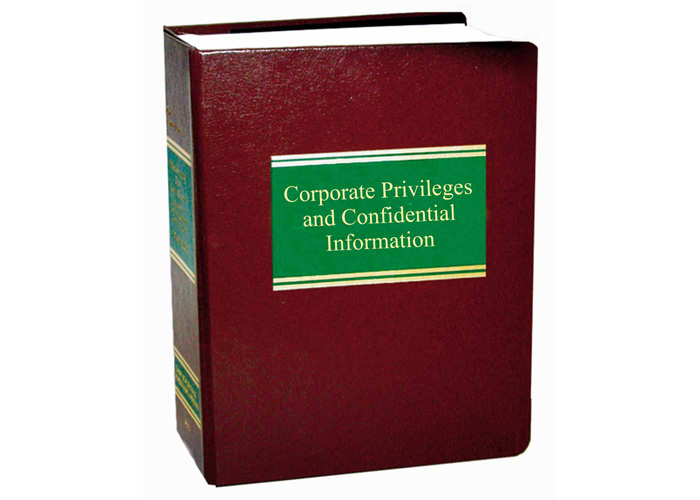 Corporate Privileges and Confidential Information is designed to assist inside and outside counsel in negotiating obstacles to maintaining corporate secrecy.
Get More Information
More from ALM
From H5

Finding critical facts within documents and data lies at the heart of any litigation or investigation. If you decide to go beyond DIY, these five questions will help confidently assess solution providers.

From Datasite

Legal advisors are navigating a new world where productivity, client expectations, and workflows are shifting rapidly. Discover best practices, productivity hacks, and insights on meeting changing demands and how your legal team can continue to deliver results for clients.

From Accusoft

Transitioning from manual processes to digital document processes is paramount for legal teams in the current digital-first environment. Discover why tech security, strong user adoption, and customization are crucial, and how to overcome the top challenges of transformation.
Premium Subscription

With this subscription you will receive unlimited access to high quality, online, on-demand premium content from well-respected faculty in the legal industry. This is perfect for attorneys licensed in multiple jurisdictions or for attorneys that have fulfilled their CLE requirement but need to access resourceful information for their practice areas.

Team Accounts

Our Team Account subscription service is for legal teams of four or more attorneys. Each attorney is granted unlimited access to high quality, on-demand premium content from well-respected faculty in the legal industry along with administrative access to easily manage CLE for the entire team.

Bundle Subscriptions

Gain access to some of the most knowledgeable and experienced attorneys with our 2 bundle options! Our Compliance bundles are curated by CLE Counselors and include current legal topics and challenges within the industry. Our second option allows you to build your bundle and strategically select the content that pertains to your needs. Both options are priced the same.
From Data to Decisions

Dynamically explore and compare data on law firms, companies, individual lawyers, and industry trends.

Exclusive Depth and Reach.

Legal Compass includes access to our exclusive industry reports, combining the unmatched expertise of our analyst team with ALM's deep bench of proprietary information to provide insights that can't be found anywhere else.

Big Pictures and Fine Details

Legal Compass delivers you the full scope of information, from the rankings of the Am Law 200 and NLJ 500 to intricate details and comparisons of firms' financials, staffing, clients, news and events.



Global Independent Law Firms Forum 2020

July 06, 2020 - July 07, 2020
London

Annual conference bringing together the leaders of independent law firms from around the world, from 40+ jurisdictions.

America's Claims Executive (ACE) 2020

July 13, 2020 - July 15, 2020
New Orleans, LA

ACE Leadership Forum & Expo is the annual conference for Senior Claims Executives in Insurance organizations.

Consulting Rising Stars 2020

August 20, 2020
Chicago, IL

Consulting magazine is proud to recognize this unique group of movers & shakers at our annual Rising Stars of Profession awards.
Law.com

Sponsored by: Control Risks |

Webcast Date: July 29, 2020 | Join this webcast for best practices and lessons learned for investigations.

Law.com

Sponsored By : FTI Consulting |

Webcast Date: Wednesday, July 22, 2020 | According to a recent Gallup study, 62% of U.S. employees worked from home this past April, reflecting a global migration to remote environments as the COVID-19 pandemic spread.

Law.com

Sponsored By: LexisNexis |

Webcast Date: Wednesday, July 22, 2020 | Privacy remains one of the top issues for in-house counsel and law firms, and those issues underscoring the need for data privacy have become even more pronounced with the onset of the global COVID-19 pandemic.
Attorney, Products Liability,Hartford - Connecticut

Hartford, Connecticut, United States

Mass Torts and Consumer Class ActionsHartford, CT McCarter & English, LLP is seeking an attorney for our Hartford, CT office in our Product...

Apply Now ›

Paralegal- Manhattan- New York

New York, New York, United States

3 years' experience in medical malpractice. Qualifications: Excellent communication skills; detail oriented; good organizational skills; ab...

Apply Now ›

Public Notice-Presiding Justice of the New York State Supreme Court- Albany

Albany, New York, United States

The New York State Judicial Screening Committee is actively seeking applications for the position of Presiding Justice of the New York State...

Apply Now ›
EISENBERG, ROTHWEILER ET AL

07/01/2020
TLI Web

Eisenberg, Rothweiler, et.al congratulate to their friend and colleague Daniel Jeck

View Announcement ›

KURZBAN KURZBAN TETZELI & PRATT ATTORNEYS AT LAW

06/04/2020
DBR Web

KURZBAN KURZBAN TETZELI & PRATT ANNOUNCES TWO NEW PARTNERS

View Announcement ›

FISHER POTTER HODAS

05/18/2020
DBR Web

Fisher Potter Hodas proudly welcomes Gerry to the firm

View Announcement ›
ALM Legal Publication Newsletters
Sign Up Today and Never Miss Another Story.
As part of your digital membership, you can sign up for an unlimited number of a wide range of complimentary newsletters. Visit your My Account page to make your selections. Get the timely legal news and critical analysis you cannot afford to miss. Tailored just for you. In your inbox. Every day.
Copyright © 2020 ALM Media Properties, LLC. All Rights Reserved.